The BEST Vegan Stuffing! Made with homemade tempeh sausage, sautéed vegetables and sourdough bread. This stuffing is a must make for Thanksgiving and the holidays. 
If you call something the best, it has gotta be the best, right?
Well, this is the best vegan stuffing out there. Maybe the best stuffing ever? I don't know. You be the judge.
I've basically taken my mom's stuffing recipe and swapped in homemade tempeh sausage crumbles for Italian sausage. Promise me you will try these sausage crumbles, even if it's not in this stuffing.
Ingredients for Tempeh Sausage
The secret in making the best vegan stuffing is using homemade tempeh sausage crumbles. These crumbles completely make the stuffing, so don't skip them. 
Isa first taught my how to make them and I've been adding them to countless recipes ever since: pizza, pasta, egg bakes, tofu breakfast tacos– you get the drift. Adding in fennel seeds and sage make this plant-based sausage taste more like Italian sausage and less like tempeh. 
In addition to tempeh, you'll need:
Spices that you likely already have in your pantry, dried basil, smoked paprika, crushed red pepper flakes and spices that you may need to purchase, like dried fennel and sage.
Fresh garlic cloves
Soy sauce
Maple syrup
How to make Tempeh Sausage Crumbles
Trust me that once you learn how to make these sausage crumbles, you'll want to put them in everything. First, you'll steam tempeh crumbles with a little water in a skillet, then add in the spices and fresh garlic cloves. 
Next, add in the soy sauce, maple syrup and oil and let cook for 5-8 minutes until browned and crispy.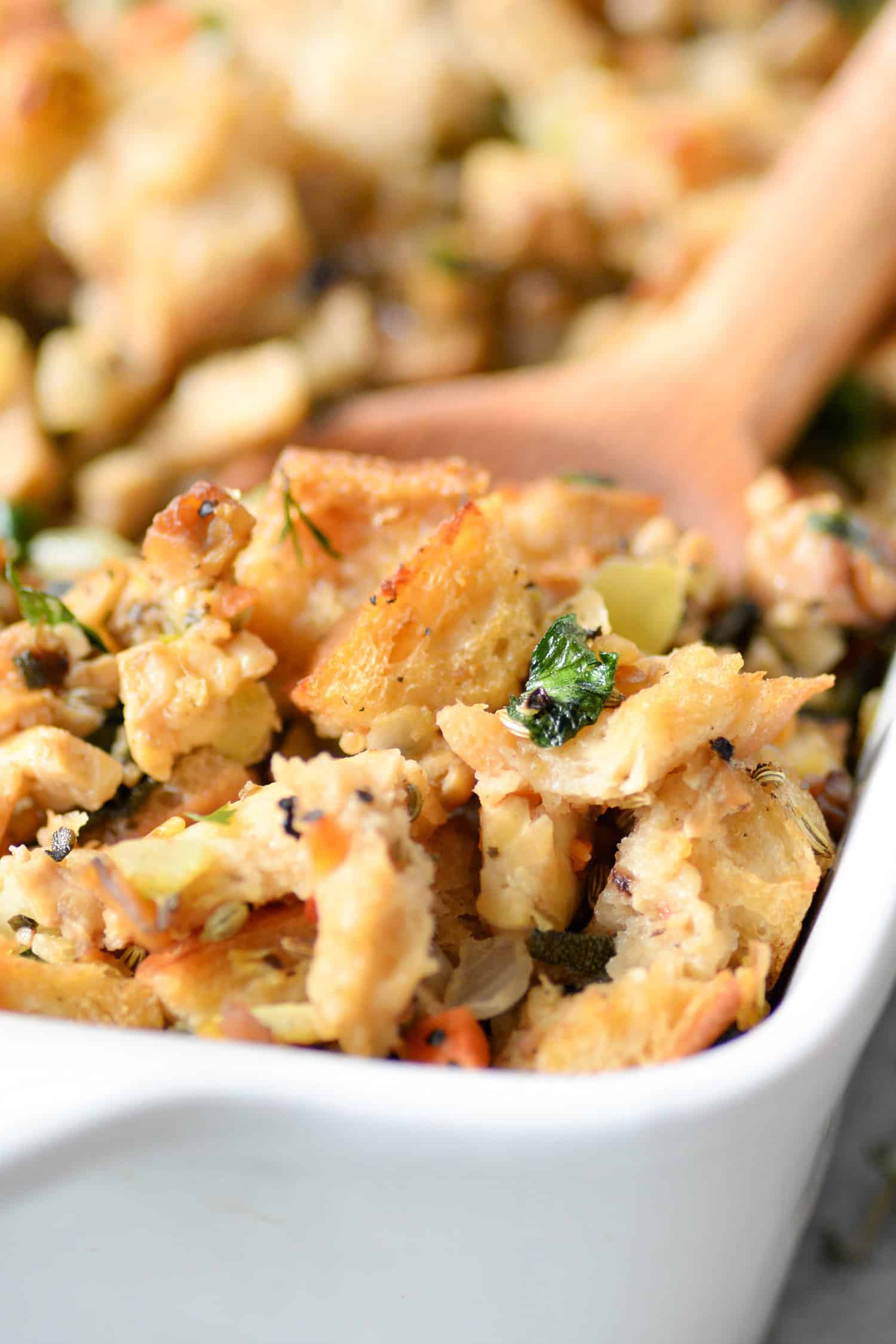 What Ingredients do I need to make Plant-Based Stuffing? 
Once you make the tempeh sausage crumbles, you'll need traditional stuffing ingredients like:
Sourdough bread
Aromatics, like onion, celery stalks and carrots 
Dry white whine. If you don't want to cook with alcohol, more vegetable broth will work 
More dried sage and dried thyme
Fresh Parsley 
Veggie broth or vegetable stock, either store bought or homemade 
How to Make the Best Vegan Stuffing
Sauté the Aromatics
Begin by sautéing the holy trinity of carrots, onion and celery in glorious butter. Well, vegan butter. I'm obsessed with Earth Balance and use it in just about everything, but any butter will work. I prefer EB because it's a dairy-free, non-hydrogenated margarine which means you get the non-dairy factor without any added trans-fats. Please use butter or vegan butter here, coconut oil or olive oil just doesn't have the same taste.
Add Flavor with Tempeh Sausage Crumbles and Fresh Herbs 
Then we fold in the tempeh sausage crumbles and lots of toasted sourdough bread. Day old bread isn't enough, the bread should be very dry and crouton like. To ensure that each piece is toasted enough, cube it and then bake in the oven until dried.
Fresh herbs are a must, so I included a heavy hand of sage, thyme and parsley. Don't substitute dried as it won't work the same way. Plus, it's Thanksgiving and I think it's OK to spend a few dollars on yummy fresh herbs; use any extras in cocktails, pasta or freeze for later.
For optimal texture, let the bread soak in the broth before baking
Lastly, add the vegetable broth and let sit to ensure that the bread soaks up everything before baking. Start slowly, you can always add more if needed. I like to begin with two cups of broth, then add a tablespoon or two at a time until perfect. The bread should be lightly moist, but not wet. If it's too wet, it will bake into a soupy mess. It'll still be delicious, but stuffing should be moist, not wet.
Bake in a prepared casserole dish
​Add everything into a lightly greased casserole dish, cover with foil and bake for40 minutes. To finish, remove the foil and bake uncovered for 20 minutes until golden brown and crispy on top.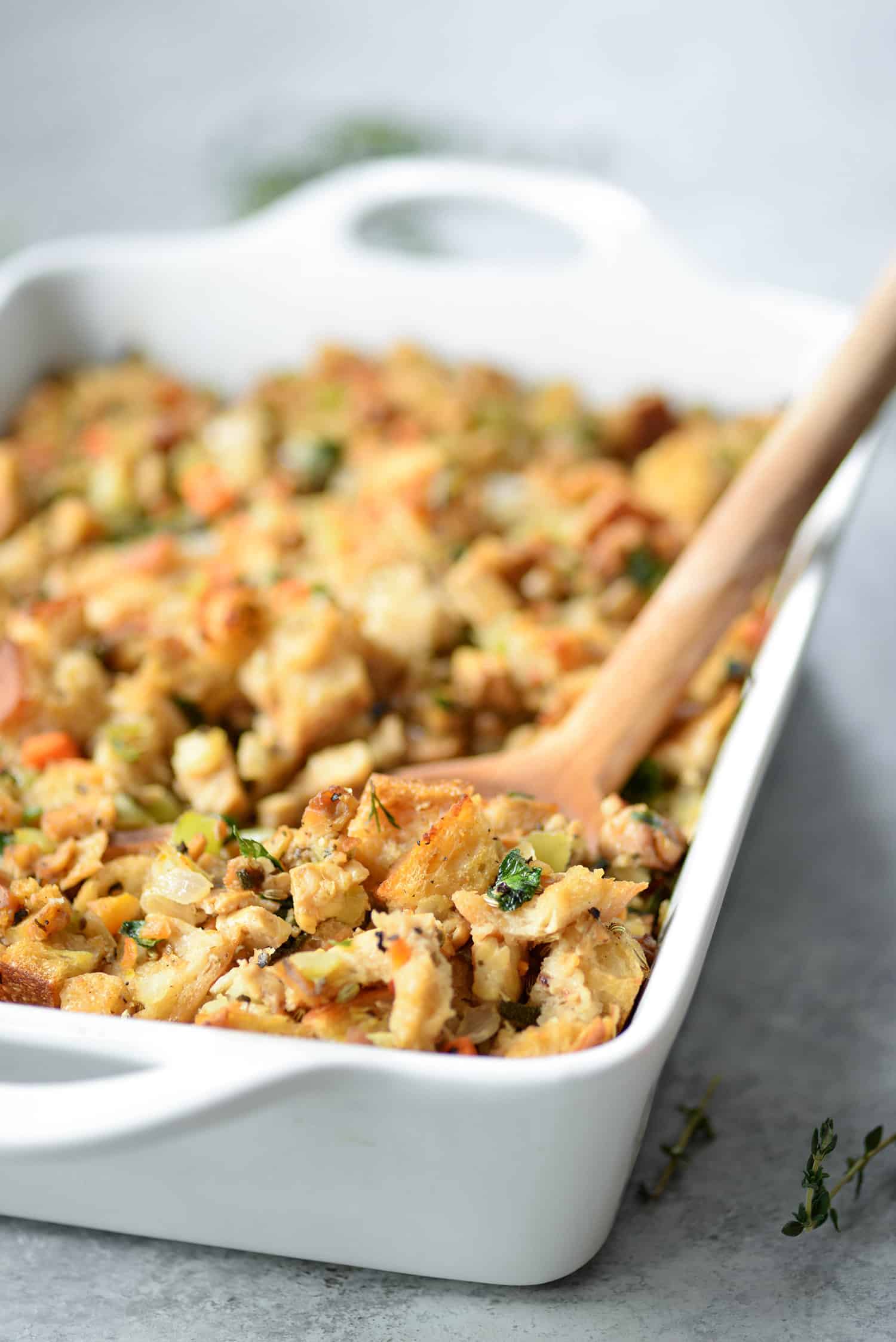 Which bread is best?
I prefer either a sourdough loaf of french bread for this vegan stuffing recipe. You can also use a whole grain bread if you prefer. The type of bread doesn't matter as much as making sure the bread is dried out enough to soak up the filling. If your bread is too soft, then texture of this stuffing won't be the same. 
Can you use gluten-free bread?
To make this recipe gluten-free, substitute tamari or coconut aminos for the soy sauce in the tempeh sausage crumbles recipe and use a good gluten-free bread. Most gluten-free bread doesn't get as crusty as regular bread, but it will still work.  
Hope you love this vegan stuffing recipe as much as we do! Since we typically do a mostly plant-based Thanksgiving, I find that classic side dishes like stuffing are so easy to make vegan. With a little vegan butter, good vegetable broth, crispy tempeh sausage and lots of fresh herbs, I promise this stuffing recipe will become a must-make in your house every year.
More Vegan Thanksgiving Side Dishes:
If you're looking for more vegan thanksgiving recipes, consider my 
Print

Author:

Prep Time:

20 min


Cook Time:

2 hours


Total Time:

2 hours 20 minutes


Yield:

8

–

10

servings

1

x

Category:

vegan, thanksgiving, stuffing, sidedish


Method:

oven, stovetop


Cuisine:

vegan, thanksgiving, american

Author:

Prep Time:

20 min


Cook Time:

2 hours


Total Time:

2 hours 20 minutes


Yield:

8

–

10

servings

1

x

Category:

vegan, thanksgiving, stuffing, sidedish


Method:

oven, stovetop


Cuisine:

vegan, thanksgiving, american
Scale
Ingredients
Tempeh Sausage
16

ounces

tempeh (from two 8 ounce packages)

1/4

cup

water

1 tablespoon

fennel seed

1 tablespoon

dried basil

1.5 teaspoons

smoked paprika

1 tablespoon

dried oregano

1/2 teaspoon

crushed red pepper flakes

1 teaspoon

dried sage (I love Penzey Spices Rubbed Sage, can also use fresh if you don't have dried)

3

garlic cloves, minced

1/4

cup

soy sauce

1/2 teaspoon

pure maple syrup

3 tablespoons

olive oil
Sourdough Stuffing
1/2

cup

butter, plus more for greasing pan (I used Earth Balance baking sticks; or regular butter for non-vegan version. Don't substitute oil, you want the flavor of butter)

1

lb

. sourdough bread, cut into small cubes

1

large onion, finely chopped

4

celery stalks, finely chopped

2

carrots, finely chopped

1/2

cup

dry white wine

2 tablespoons

fresh sage, chopped

2 tablespoons

fresh thyme leaves, chopped

1/4

cup

finely chopped parsley

1/4

–

1/2

teaspoon salt (Earth Balance is salty, so if you use an unsalted butter, you'll want more salt)

1/2 teaspoon

freshly ground pepper

3

cups

vegetable stock
Instructions
Heat a large skillet over medium heat.
Crumble the tempeh using a box grater or finely chop using a knife. Add to the skillet along with 1/4 cup water. Let steam until all water is absorbed, stirring occasionally.
Add in the spices and garlic and toast for 1 minute until fragrant. Add in the soy sauce, maple syrup and oil and let cook for 5-8 minutes until browned and crispy. Set aside.
Preheat oven to 300 degrees F. Lightly butter a large (9×13″) baking dish and set aside.
Cube bread and place in a single layer on a baking sheet (will likely need two baking sheets) and toast until dried out but not overly browned, about 25-30 minutes. Remove from oven.
While bread is cooking, heat the butter in a separate large saucepan over medium heat. Add the onion, celery and carrots and cook, stirring occasionally, until vegetables are very tender but not browned, about 15 minutes.
Add the wine and scrape any browned bits that have occurred after cooking the vegetables. Bring to a boil and cook until wine is mostly evaporated, about 3-4 minutes. Toss in sage, thyme and parsley.
Increase oven temperature to 350 degrees F.
Add bread, tempeh sausage and vegetable mixture in a large bowl and add 2 cups of stock, toss well to combine. You want the bread mixture to absorb all of the broth and be "wet" but not have any visible broth in the bowl. Add the salt and pepper.
Slowly add the rest of the broth, tossing every 1/4 or so until all combined. Let sit for 10 minutes until all broth is absorbed. Season, adding more salt/pepper if needed.
Transfer stuffing to prepared dish and cover with foil. Bake for 40 minutes. Remove foil, increase temperature to 425 degrees F. and bake another 20-25 minutes until golden brown on top.
Notes
You can make this ahead of time for easy prep. Make as directed the day before, then cover with foil and chill in the fridge until ready to bake.